Last week I posted about the Women in Manufacturing event that I was excited to attend. I wanted to report back with some reflections from the event.
First, one of the main things that continues to shock me is that despite making up approximately  47% of the US Workforce, women account for only 27% of manufacturing workers. There's so much room for growth!  We really feel that women are manufacturing's largest pool of undeveloped talent – just imagine the great contributions we'd be able to make if women were to realize their full potential in this industry!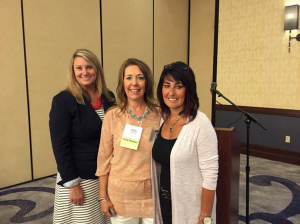 Pictured, left to right:
Allison Grealis, President, Women in Manufacturing.
April Schultz, Business Development Manager, EFCO Finishing Corporation
Pam Hutchinson, CEO/Owner, NORQUIST Tool & Die
Women in Manufacturing began in 2011 and aims to support, promote and inspire women at all levels of manufacturing. Currently, there are over 500 members in chapters all across the United States, and as women of all ages learn of career opportunities, we continue to grow.
If you are a woman in manufacturing, consider joining WiM www.womeninmanufacturing.org or contact me directly at april@efcofinishing.com
Mark your calendars, as our next WI chapter event is Thursday, October 7th at 5:30 PM at the Wisconsin Club in Milwaukee. Stay tuned for details!