Terry Schultz, President of EFCO Finishing, attended one of the speaker sessions at the  Wisconsin Manufacturing and Technology Show last Wednesday, October 7, 2015, held at the Expo Center at State Fair.  The presentation topic was on leadership, and the two presenters were Jim Kacmarcik, President of Kapco, Inc., and Mark Tauscher, current broadcaster, and formerly of the Wisconsin Badgers and Green Bay Packers.  Some of the key takeaways from each speaker included the following:
Jim Kacmarcik, "Vision of a Leader"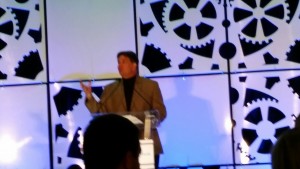 Jim is very successful, and involved in many different businesses.  His message was that you have to stand for something as the owner or leader of a business, and you need to define mission.  All employees have hopes and dreams, and as leader, you need to convey a clear message to them, getting everyone on the same page.  Jim finally started to feel success a little later in his career when he realized that other opinions matter as much as his, and when he started to give more back to the community, making the focus not just on him.  As a company, Kapco tries to focus not just on bottom line, but on the experience.
Mark Tauscher, "Always Be Your Best"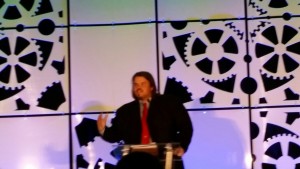 Mark spoke about taking ownership of your responsibilities, and about his journey to get where he is today.  He mentioned that everybody desires instant gratification, but you have to go through the "process" and endure the peaks and valleys along the way.  To have a good team, all contributors need to know their role, and work to improve both themselves and the organization. At a root of it all, they must believe in what you are doing. Opportunity will be there, and when it does, you just need to grab it! To conclude, he spoke about the main reason behind the Green Bay Packers continued success being leadership and how it permeates through the team, with everyone believing in the mission!